Section 179 is an incentive created by the U.S. government to spur businesses into buying equipment and investing in themselves by way of a depreciation deduction that allows them to deduct the cost of qualifying tangible goods as an expense, rather than requiring the cost to be capitalized and depreciated.
Section 179 Tax Deduction for 2018
Section 179 of the U.S. tax code allows businesses to deduct the full price of qualifying equipment or off-the-shelf software purchased, financed or leased during the 2018 tax year from their gross income.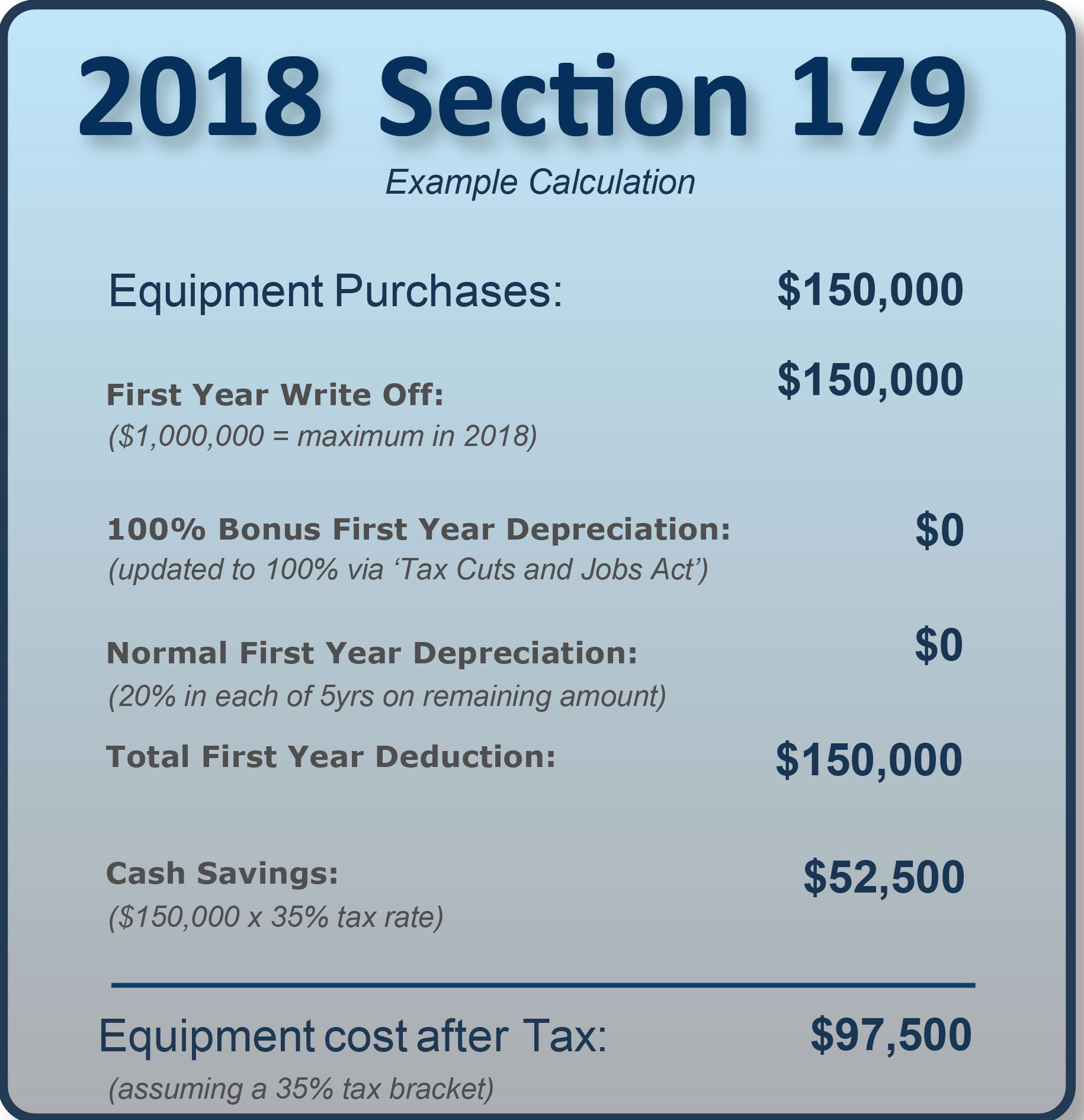 2018 Deduction Cap: $1,000,000
This deduction is good on new or used equipment, in addition to off-the-shelf software. To take the deduction for tax year 2018, equipment must be financed or purchased (or leased) and put into service between January 1, 2018 and the end of December 31, 2018.
2018 Limit on Equipment Purchases: $2,500,000
This is the maximum amount that can be spent on equipment before the Section 179 Deduction available to your company begins to be reduced on a dollar for dollar basis. This spending cap makes Section 179 a true "small business tax incentive" (because larger businesses that spend more than $3.5 million on equipment won't get the deduction.)
Bonus Depreciation is ordinarily taken after the Section 179 Spending Cap is reached and is available for both new and used equipment.
Qualifying Equipment
Please keep in mind that to qualify for the Section 179 Deduction, the equipment listed below must be purchased and put into use between January 1 and December 31 of the tax year you are claiming.
Equipment (machines, etc.) purchased for business use
Tangible personal property used in business
Computers
Office Furniture
Office Equipment
Property attached to your building that is not a structural component of the building
Partial Business Use (equipment purchased for business & personal use: Deduction will be based on the percentage of time used for business purposes.
Certain improvements to existing non-residential buildings: fire suppression, alarms and security systems, HVAC, and roofing.
Business Vehicles with a gross vehicle weight in excess of 6,000 lbs.

Vehicles that seat nine-plus passengers behind the driver's
Vehicles with:

a fully-enclosed driver's compartment/cargo area
no seating at all behind the driver's seat
no body section protruding more than 30 inches ahead of the leading edge of the windshield.

Heavy construction equipment
Typical "over-the-road" Tractor Trailers
Exceptions include the following:
Ambulance or hearses used to specifically in your business
Taxis, transport vans, and other vehicles used to specifically transport people or property for hire.
Qualified non-personal use vehicles specifically modified for business
Other heavy "non-SUV" vehicles and trucks with a cargo area at least six feet in interior length.
Computer "Off-the-Shelf" Software
The software must:
be purchased or financed with specific qualifying lease or loan
be used in your business for income-producing activity
have a determinable useful life
be expected to last more than one year
be readily available for purchase by the general public
be subject to a non-exclusive license
not have been substantially modified